Nouvelle Mise à jour

Géant 2500 4k
GN-2500 EVO 4k
19-01-2022
v3.2.6

New update Géant 4k 2500

EVO
Flash Firmware MAJ GN-2500 EVo 4k 2022


Dernière mise à jour géant 2500 Evo 4k v3.2.6

Nouveau dans les mises à jour est:
Add more sat for SDS.
(3) Sat are activated now 10E, 30W
now 10E, 30W New TP Easy To get, 14W
19 Janvier 2022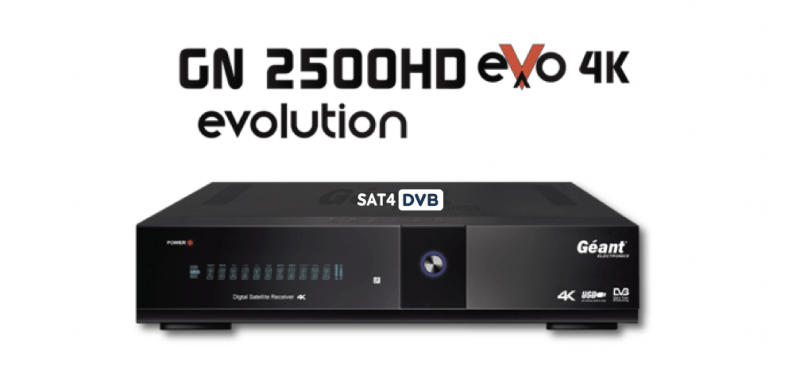 2500 Evo 4k 2022
Mise à jour Géant gratuit 2022
Télécharge Gratuit Dernière mise à jour Géant HD
GN-2500 4k EVO

Fiche technique
Product Pictures :
ANDROID DVB-S2 + GN-2500 EVO 4k

Processor and Memory
Chipset Hi3798MV200
basic frequency 2.0GHz
CPU Cortex A53
GPU Mali450
Flash EMMC5.0: 16GB
SDRAM DDR4 : 2GB
Tuner & Channel
Input impedance: 75
input frequency:950~2150MHz
"Symbol rate: QPSK 1~45Mbauds; 8PSK 2~30Mbauds"
Tuner :TH011R2VA
Demodulation: QPSK.8PSK,16APSK,32APSK
Video
H.265 MP@level 5 Main Tier H.264 BP/MP/HP@level4.2
Video coding provides VBR and CBR model"
Low latency coding
Audio
MPEG L1/L2
Dolby Digital/Dolby Digital Plus Decoder-Converter
Dolby True HD Decoding
DTS HD/DTS M6 Decoding
Dolby Digital/ DTS unvarnished transmission
Dolby ATMOS
AAC-LC,HE AAC V1/V2,APE/FLAC/Ogg/AMR-NB/WB,G.711(u/a),
Dolby MS11,HE-AAC transcoding DD
General Features GN-2500 EVO 4k:
Build in USB Wifi
Build in Blue tooth
TF card connector
Support high-speed SATA hard disk
H.265/HEVC Main/Main10 profile@Level5.1 High-tier supported
Fully HD 3D video (MVC formats)
Maximum 4 channel HD decoding simultaneous supported
4Kx2K@60fps,10bit decoding supported
Support H.264 4K*2K@30fps decoding
3D video processing and displaying supported
Support low latency video decoding
Support multi-channel decoding simultaneous
Support 3D MVC Video
Support DRM middleware
Support DRA decoding Dolby Digital/Dolby Digital Plus Decoder-Conv
DolbyTrue HD/DTS/DTS HD Core decoding; supported Dolby Digital/ DTS.
OS: Android 9.0 version
2.4G mouse and keyboard supported.
DLNA, MirCast,Airplay, G-MScreen supported.
Support weather forecast, show the weather information of the pre-set city
Google Search, Web browser, Email supported.
USB function?supported all kind of storage ,recording,playing and connecting all kind of USB equipment
Working power consumption less than 10W?stand-by power consumption? less than 0.5W.
Support multimedia playing , visible communication,multi-screen transcoding and so on function
Multilingual menu supported
Blind search supported
Multi satellite search,network search,PID search, manual search and Multi-TP search
Fast Scan on Astra(19.2E 13.0E)
Quick setting and scan for satellite installation
DiSEqC 1.0/1.1/1.2/1.3(USALS)
Auto DiSEqC Search
Unicable Supported
Multi-language DVB Subtitle output
dvb subtitle
OTA and USB upgrade supported
Support multi-formats and resolution PAL 720*576 NTSC 720*480 720p 1080i 1080p
Support : picture dimension adjusting according screen size.
Picture
Standard?JPG,PNG
Front panel &Touch panel
Power light(RED) +VFD&3 keys
Rear connnector
Dual S2 Tuner in,SPDIF, earphone AV connector (left /right audio channel , compositive video),
DVB-S2
DVB-S / DVB-S2 Satellite Compliant (MPEG-II/ MPEG-IV/ H.264).
SCPC & MCPC receivable from Ku and C band satellites.
Input Frequency: 950~2150MHz
Input Level: -65~ -25dBm
LNB Polarisation:13V/18V/OFF
Universal, Single, Single S & C Band Wideband LNB.
Compatible Code Rates: 1/4, 1/3, 2/5,1/2, 3/5, 2/3, 3/4, 4/5, 5/6, 8/9, 9/10 and Automatic.
Symbol Rate: 2.0~45 MS/s.
Demodulation: QPSK, 8PSK, 16APSK, 32APSK
Reed-Solomon: 204, 188, t = 8
Roll Off Factor:0.35,0.25
ACM supported
Power
Working power consumption Less than 18W stand-by power consumption? less than 0.5
Others
Input voltage 12V 2A
perating temperature 0 40
Size 180*130*60mm
| | | | | | | | | | |
| --- | --- | --- | --- | --- | --- | --- | --- | --- | --- |
| NOM DE SERVEUR | SERVEUR INTERNET | SERVEUR DONGLE | NBR IP TV | NBR IP TO SAT | H 265 | NBR VOD | WIFI | IP AUDIO | SOUS TITRE |
| FOREVER PRO | 2 ANS | OUI 2 ANS FOREVER | 2 ANS APOLLO | NBR IP TO SAT | OUI | 2 ANS | OUI | OUI | OUI |