Nouvelle Mise à jour Géant HD
GN-G50
07-07-2022 
New Update Géant GN  
Dernière mise à jour Géant GN 2022

MAJ GN Géant HD GN-G50
Nouveau dans les mises à jour est:
1 NOUVEAUX PRODUIT
SAT4DvB COM
07 Juillet 2022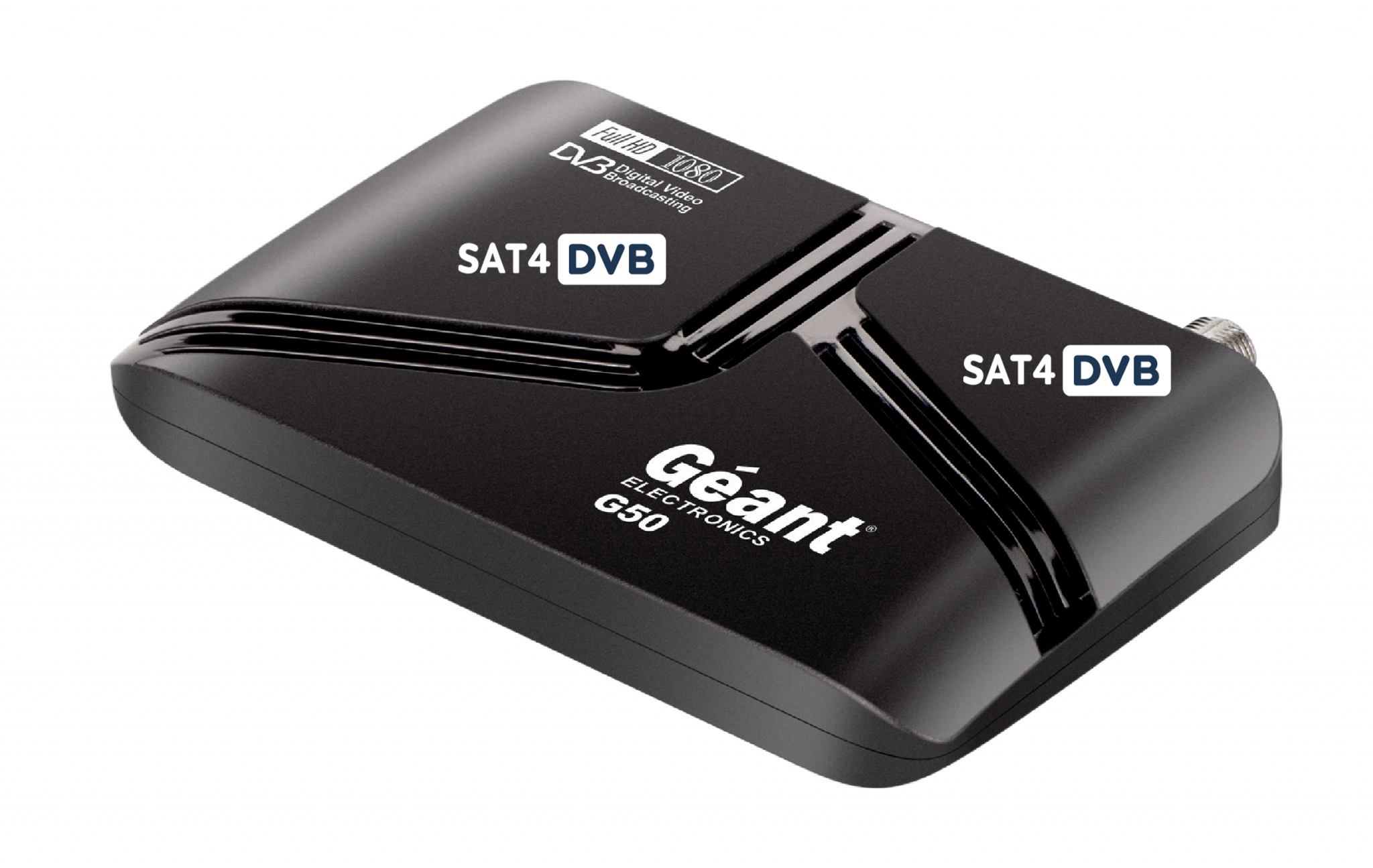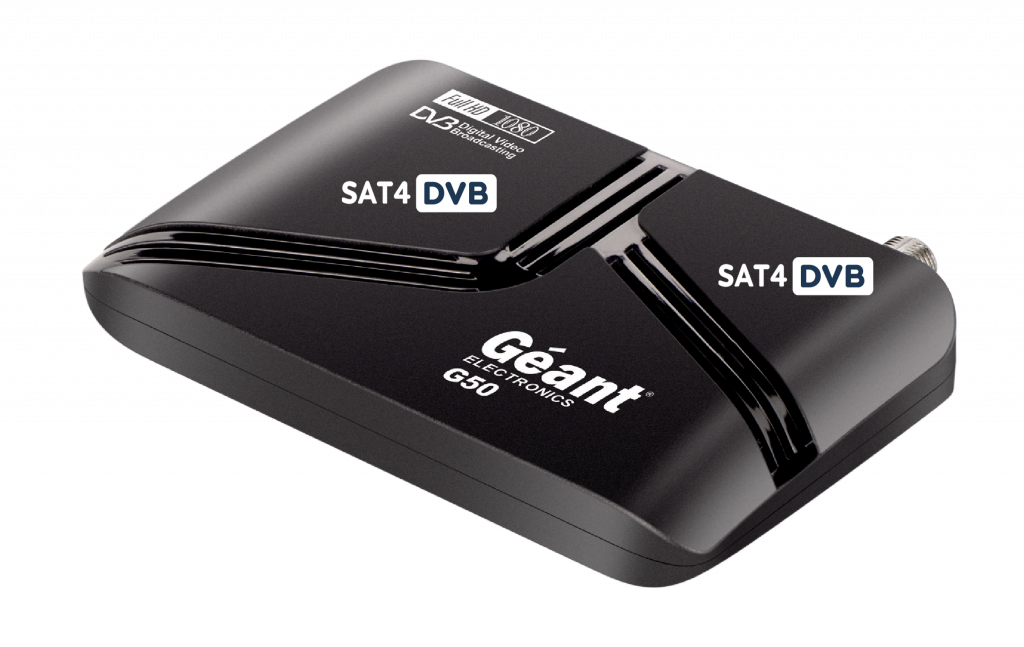 Mise à jour Géant gratuit 
General
 Features Géant HD GN-G50:
 FRONT END
DVB – S / S2 : S
DVB-S / DVB-S2 Satellite Compliant (MPEG-II/ MPEG-IV/ H.264) S
SCPC & MCPC receivable from Ku and C band satellites S
Input Frequency: 950~2150MHz S
Input Level: -65~ -25dBm S
Input Impedance: 75O S
LNB Polarisation:13V/18V/OFF, Imax = 300mA
Universal, Single, Single S & C Band Wideband LNB
Compatible Code Rates: 1/2, 3/5, 2/3, 3/4, 4/5, 5/6,7/8, 8/9 and 9/10
FEC :1/2, 2/3, 3/4, 5/6, 7/8, 8/9, 9/10 and Automatic
Symbol Rate: 2.0~45 MS/s
Demodulation: QPSK, 8PSK, 16APSK, 32APSK
Reed-Solomon: 204, 188, t = 8
Roll Off Factor:0.35,0.25
Blind search supported
Multi satellite search,network search,PID search, manual search
and Multi-TP search
Fast Scan on Astra(19.2)
Quick setting and scan for satellite installation
DiSEqC 1.0/1.1/1.2/1.3(USALS)
Auto DiSEqC Search
PAL/NTSC
Variable aspect ratio(4:3,16:9)with PAN&SCAN vector or letter BOX
option
Output Resolution: 480p&480i, 576p & 576i,
720p50&60HZ,1080i50 &60HZ, 1080P50&60HZ
32bits Color on screen display (OSD)
Storing memory: 100 satellite, 4000 transponders and 8000 channels
Supported satellite add ,delete,move,rename
Supported transponder add ,delete,edit
favorite group and parental lock supported
Favorite group add, delete,rename
Supported programme lock, delete, move(group move), rename , swap
Supported multi-language menue (English.
Franch.Russia.Arabic.Farsi,Turkish etc)
Suported list of programmes,have four sort
function:FTA>CAS,satellite,transponder, alphabet.
support multi epg language
Easy functions such as Group Move/Recall History
Multi-language audio
Multi-language DVB Subtitle output
7 days Electronic Program Guide (EPG)
Teletext output through VBI and OSD
Software(data,maincode) upgrade through USB
USB 2.0 Interface
Common Interface
DVB subtitle
Supported multi-language menu
Support WIFI Dongle
FASTSCAN
BLINDSCAN
Supported setting timer by manual or auto,you can add up more
than 32 timer events
Supported record timer event.
Supported customized sleep time.
Supported customized time to jump the designated program.
Supported USB->WIFI
reversed.
picture can be manually switch, from top to bottom around the
Supported JPEG, gif,bmp, format, all players can cycle can also
S Supported AVI subtitle file (.srt and .sub )
S Supported video loop and FF/FB and Pause,Resume Jump
S Supported avi, mkv, ts, tp, trp, mpg, mp4. Media play:
S Music player: Supported Pause, FF, FB, Jump ,create music lists.
S Supported music files,mp3 format.
S S/W download, upload and download channel data ,sat and tp data
S Rename ,delete ,create folders ,Format and set recording path
USB ( FAT , FAT32 and NTFS ) :
ISO/IEC 13818-2 S
MPEG1,MPEG-2 MP@ML,H.264, VC1, DV, DivX, and MPEG4
Aspect Ratio: 4:3, 16:9
Video Full Resolution:1920 × 1080P 1920 × 1080i and 1280 × 720p
for HD video,720 × 480p, 720 × 480i, 720 × 576i, and 720 × 576p for
SD video,
Video Format: PAL, NTSC
HDMI output with upscale supporting up to 480p&480i,576p & 576i,
720p&1080i50Hz&1080P50Hz,720p&1080i60Hz&1080P60Hz
Host Supplied Audio/Video: I & P frame support
Format conversion: Pan & Scan, Letterbox
Video planes: 2 panes (1 graphic planes, 1 display planes)
Hardware accelerated JPEG/MJPEG decoding
AUDIOStandardsStandard: ISO/IEC 13818-3
Decoding: MPEG-2 layer I and II (Musiccam),MPEG4 AAC and
MPEG4 AAC-HE (AAC+)
Sampling Frequency :32, 44.1, 48KHz
half sampling rates of 16kHz, 22.05kHz, 24kHz are supported
Audio Output Impedance: Low
Output Mode: Mono, Dual-channel, Stereo, Left, and Right.
A/V OUTPUT

S Audio Output Frequency: 20Hz~ 20KHzS Video Output Level: 1.0Vp-p
S Video Output Impedance: 75O
S Video Bandwidth: 5.5MHz
S Video De-emphasis: CCIR REC.405-1, 625 Lines
PROCESSORStandardsChipset: AVL1506HV
Flash Memory: 4MByte
SDRAM Memory: bulit in 512Mbit DDR2
Tuner: RDA5815M
Demux Tiplexer :
Standard: ISO/IEC 13818-1
Input Max. Bit Stream Rate: 120Mbps(Serial)/15Mbps(Parallel) 
Interface port
CVBS ( RCA ) Baseband video:S USB port 2 X
S Display LED with IR Receiver: 38KHz
S Input F-type HDMI output
S Stereo Audio: Variable volume ( 2 x RCA, i.e.1 Left & 1 Right) , N.W.:
 Télécharge Gratuit Dernière mise à jour
Date Files Géant HD GN-G50: